When is the last time you received an email and thought to yourself: "Wow, that's really cool, I should hang onto this!" or "It's so different, I wonder how they made that?" If you're like most of us, you haven't. That's because the average person receives more than 100 emails per day!
On the other hand, I bet you have a pile of direct mail sitting on your desk or some printed pieces tucked away for safekeeping. That's because print has the unique ability to get noticed. For whatever reason, the printed piece caught your eye. Maybe it was an interesting shape, color, or stock, and you decided it was worth hanging onto. More importantly, you probably remember the brand that sent it to you. That's the big takeaway for those of us trying to get our message heard.
Print and direct mail have an advantage over digital communications based on volume alone. The average business professional receives 121 emails per day. In comparison, the USPS Household Diary Study shows that the average consumer only gets an average of 2–3 pieces of mail per day. That's not a lot of competition in the mailbox, which means better odds for marketers and designers!
This might be why direct mail response rates are at an all-time high. According to the 2018 DMA Response Rate report, direct mail has an average response rate of 9% for house lists and 4.9% for prospect lists. These are the highest levels the DMA has tracked since 2003.
The physical nature of print also makes it hard to completely ignore, unlike email. Think about it: emails can automatically be sent to the trash (or worse, the dreaded SPAM folder) without anyone ever interacting with it. We set up filters and automation rules to weed out email because the amount we receive is overwhelming. With direct mail, however, even if your piece goes unopened, someone had to physically handle it. They received it, looked at who it was from, and decided whether or not it was worth their time—all while it was in their hands.
But don't misunderstand: I'm not saying that brands should stop sending emails because they still play an important role in our marketing efforts. Email can help strengthen direct mail and other social channels and it's a great way to follow-up on your direct mail efforts.
So how do you ensure your mail actually gets opened, and better yet, remembered? After going through the box of mailers that I've hung onto in recent months I noticed a few trends which I've outlined below.
Use Dimensional Mail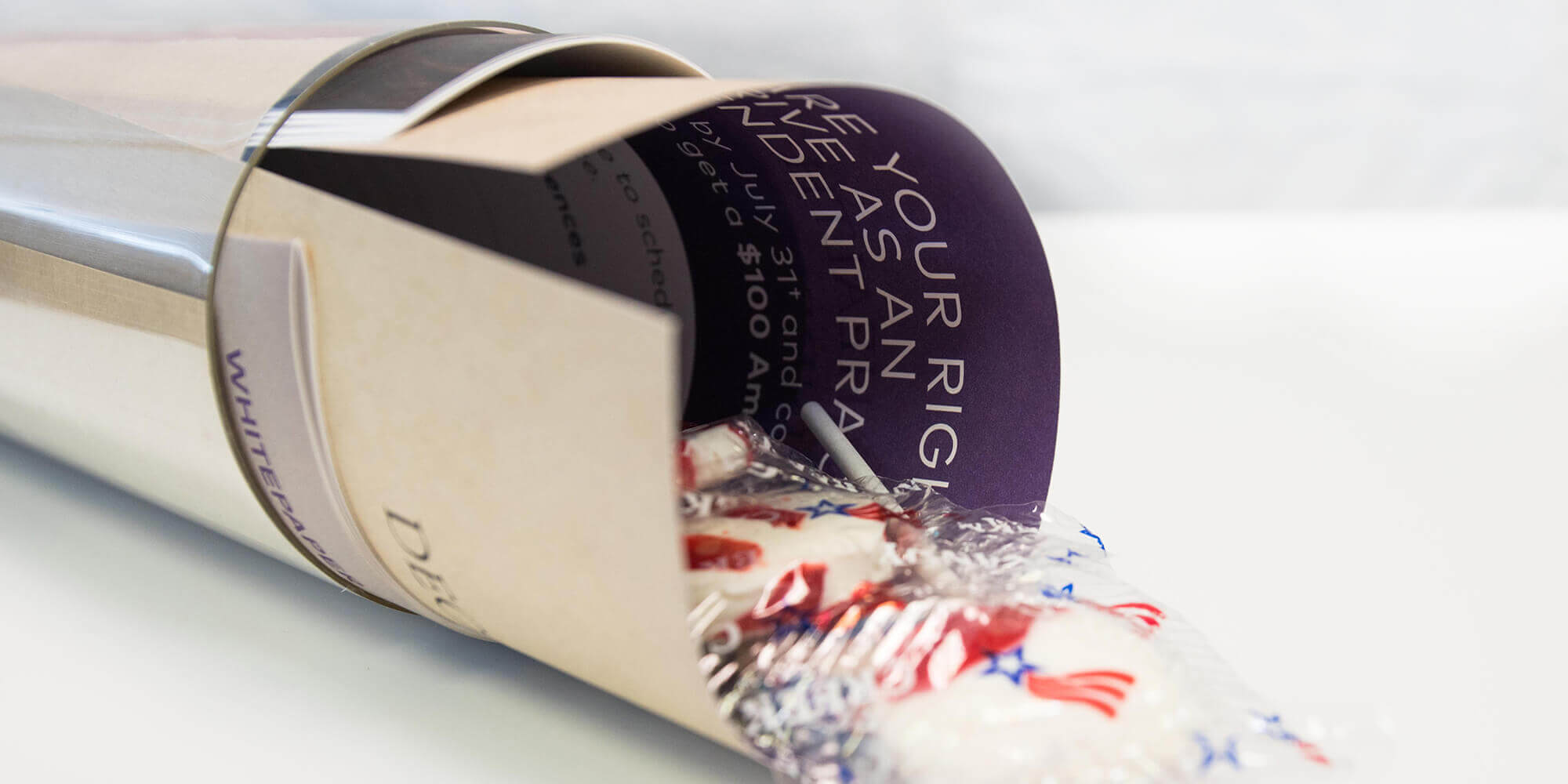 The Direct Marketing Association defines dimensional mail as a piece that's more than .75 inches thick. It can be a box, tube, or any unusual shape that makes it 3D and enticing to open. Dimensional mail can often feel like getting a gift, and who doesn't like that? They can include promotional items or the paper itself can become a pop-up calendar or another item that adds longevity to your mailer. Think about what makes sense for your brand and how you can create an interesting package that gets your message into your customer's hands.
Make Direct Mail Interactive

Making your next direct mail piece interactive and fun (if that's the right tone for your brand) is a great way to create engagement. Whether you use interactive elements on the piece itself (like Shawmut's substrate mailer) or you use mail to connect people to digital communications, make sure your mail piece is more than a one-way flow of information.
A recent study from InfoTrends called the Strategy for Growth states that 80% of Millennials want brands to entertain them, and they find direct mail entertaining. Elements like unique opening mechanisms, scratch-offs, interesting folds, and die cuts are just a few examples that can add a sense of entertainment and interaction to your direct mail piece.
Engage the Senses

I know my fellow designers will agree: when you receive a piece of mail that uses a great stock, texture, or embossed element, you are drawn to it. You can't help but run your fingers over the piece and show your colleagues how cool it is.
While these pieces certainly end up in my creative idea stash, they also tell me something about the brand and the value of the product or service they are advertising. It shows me that the company has invested in communicating with me and I automatically place a higher value on their product or service. And when all else remains equal, the "feel" of the direct mail piece often dictates whether I hang onto it or toss it in the trash.
These are just a few ideas to help your next direct mail piece be remembered. If you're looking for more creative inspiration check out some of our recent projects or contact us to talk about your next direct mail project.