When it comes to buying print, one of the most important factors for buyers is the equipment on the floor. According to "The New Print Buyers: Who They Are, What They Want and What You Should Do"* by industry experts and consultants Margie Dana and John Zarwan, 73 percent of buyers say print equipment matters. In addition, the study found that only 13 percent of print buyers want their printers to "just print".
The marketing game has totally changed and so to has the role of the print buyer. Today the majority of Shawmut's customers wear many hats and work within marketing, communications, and development departments (to name a few). Price, quality and delivery are no longer buying features or competitive advantages, they are a given. Today our customers are looking for advice on how to make print more effective, creative and efficient and we've welcomed this change with open arms.
This change led us to become a full-service communications company offering everything from graphic design and copywriting to promotional products and signage. But one thing we have not lost sight of is our roots in print. We understand the importance of not only having the right equipment but educating our clients on how these investments can take their print to new heights. Below is an overview of some of the new equipment we've added since 2015 and how they benefit our clients.
New Print Equipment at Shawmut
Komori 8-Color H-UV Offset Press

Unlike conventional presses, our new 8-color offset press uses H-UV ink technology which dries instantly—eliminating the need for coating and reducing the overall production time. Not only does it save time but it also lowers emissions and opens up new creative possibilities for our clients including more vibrant colors on uncoated sheets and specialty coatings. See the difference for yourself and request our print sample comparing H-UV to Conventional Inks.
Konica Minolta 1-Color Press

Our new Konica Minolta is a high speed, high volume black and white solution perfect for non-profit and higher education clients leveraging variable data for direct mail giving programs.
Duplo 646 Slitter/Cutter/Creaser

This unique digital finisher creates a multitude of full-bleed applications with more efficiency and flexibility. It provides the ability to slit, cut and crease all in one pass generating greeting cards, perforated coupons, direct mailers with tear-away cards and more at lightning speeds!
Halm Superjet

This offset press prints a variety of envelopes—from coin sized to a 10x13. Clients can take advantage of its ability to print two colors with light to medium coverage in either straight or perfecting mode to generate up to 25,000 envelopes per hour.
Xante Impressia

Coupled with the Superjet, the Xante Impressia allows us to meet the majority of envelope needs for our clients. This digital press offers a four color toner-based envelope solution, variable data printing, and close PMS matching.
Harris & Bruno Excelcoat

This machine allows us to flood UV Coat and Aqueous Coat off-line from either the offset or digital presses. Now clients can leverage UV Gloss, UV Satin, UV Matte, UV Soft Touch, and UV Pearlescence as well as new coatings coming to the marketplace each year on any printed piece.
Standard Horizon Bookletmaker

The Standard Horizon booklet maker is a fully-automated combination stitcher/folder and face trimmer that is geared for non-stop production at speeds up to 4,500 booklets per hour. This is great for short run booklet work for clients whose content changes often.
Additional Services and Technology to Support Print
In addition to a significant investment in equipment over the last 12 months, we're also focused on helping clients streamline the distribution and management of materials with our online storefronts and fulfillment services. In the last year alone we've added 17 new client storefronts which range from simple print-on-demand business card solutions to those that manage complex marketing programs and assist clients in automating variable print, fulfillment and direct mail orders daily.
We're also finding ways to help clients make better use of their data to personalize communications as much as possible. Research shows that response rates increase by an average of 20% when the message is personalized to each recipient. And using our variable data solutions, clients can personalize much more than a recipients name.
We can include custom images, text, and personalized URLs based on a recipient's demographic information, interests and behaviors. For example, a direct mail postcard for one of our banking clients uses location information to show recipients the address and photo of the nearest banking branch. We have also helped clients personalize direct mail campaigns based on past purchase or donor behavior, buying cycle stage, anniversary dates, and more.
One of our latest advancements is our digital handwriting technology that is taking off among our higher education and healthcare clients. This unique application uses patented technology and is not a font! It mimics the natural variations of handwriting and is available in a variety of styles—making it authentic, scalable, and easy-to-use.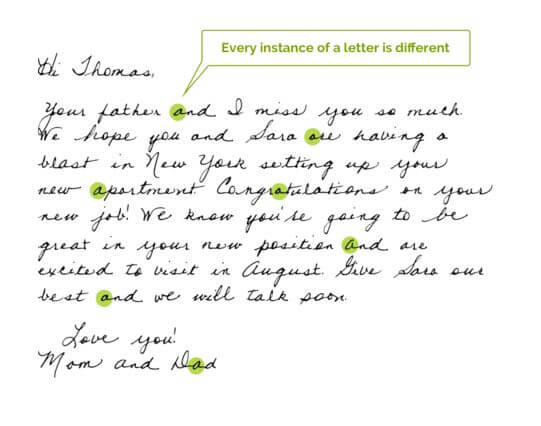 According to the CMOCouncil.org, the industry standard response rate for direct mail is 4.4%. However in a recent A/B test the response rate increased to 17.2% using digital handwriting technology. Digital handwriting works because it taps into the recipient's emotions—generating big response rates. At Shawmut, we see digital handwriting as an excellent opportunity for sales outreach, fundraising letters, customer service communications, and more!
There are so many changes at Shawmut! We invite you to come in for a tour and see all the changes for yourself.
*The study polled 315 print buying and marketing professionals in corporations and creative agencies across the United States and Canada.