Trade shows put your products and services on display, and those who attend are interested in what you have to offer. Research shows 92% of trade show attendees come to learn about new products and services. Exhibitors have interested customers all around them, but getting them to visit your booth can be a challenge.
Potential customers wander around, lurking at a distance without approaching booths. How do you close the gap? How do you get trade show attendees to walk right over and start a conversation?
The answer lies in the booth design. The right design is informative, inviting, and intriguing—and that's what lures people into your booth.
Here are six design tips to wow customers at your next trade show:
1. Ditch the table
Many exhibitors come with a banner and a table that runs the length of the space. While the table is functional, exhibitors can do better. It's time to ditch the full length table. The table serves as a barrier and makes exhibitors seem unapproachable.
Instead, consider more creative furnishings. You might add comfortable seating, a few high-top tables, or a small podium.
At Shawmut, we've seen more clients lean toward smaller podiums or counters that feature the company's branding, like this example of a pop-up magnetic structure paired with a counter (built from a transport case) and high-top table.
Wondering where to put all of your marketing materials without having a large table? A brochure stand is a great solution. It's simple, small and adds extra dimension to your booth. Try a showcase kit, seen in the example above, for extra storage within your structure itself at an optimal viewing height.
2. Get creative with storage
Having the proper storage is crucial to attracting customers. How? Customers aren't going to visit a cluttered booth, so keeping "stuff" out of eyesight is important.
Now that we've suggested removing your full length table, storage might be a problem.
Many exhibitors hide totes of materials and swag under the table. Without it, what's the storage solution?
Smaller tables or counters can include shelves that are perfect for keeping materials organized and hidden. You can even have a display custom made to include specific storage solutions like shelving or drawers.
Pro Tip: Keep your trade show brochures and marketing materials organized with a web to print storefront. You can print and inventory marketing materials that are used at every trade show.
3. Design signage that immediately explains your purpose
Every exhibitor needs signage, but it should include more than the company name and logo. To attract people to your booth, your signage should answer one very important question for potential customers, "What's in it for me?"
Here's a good rule of thumb: Attendees should be able to tell what your company does in five seconds from 15 feet away. That's no small feat. You have to come up with clear, succinct messaging that explains what your product is all about.
Once messaging is complete, you have to focus on the sign's size. Signage should be large, placed above waist level, and contain AMAZING graphics that are eye-catching.
4. Create amazing visuals
One of the biggest reasons people stop at a particular booth is because they're drawn to its visuals. The importance of visuals can't be understated.
Visuals should include the company logo, messaging, and vivid imagery. Finding high-quality imagery can be difficult. Using cell phone images or downloading online images won't work because the size and resolution of the images are too small.
Booth graphics print at 100–200 dpi (dots per inch), while online images are set at 72 dpi to fit typical screen resolution. As a result, "blowing up" an online image for a giant display can be problematic. A reputable print company can help you find and secure imagery that's fit for booth displays. Vector artwork is always recommended, as it can be scaled to any size.
Pro tip: Stock image site Getty Images has visuals large enough for wide format printing.
Finding images is only half the battle. How the images are displayed is even more important. A curved background banner and matching display counter, like the one below, for example, can't be missed.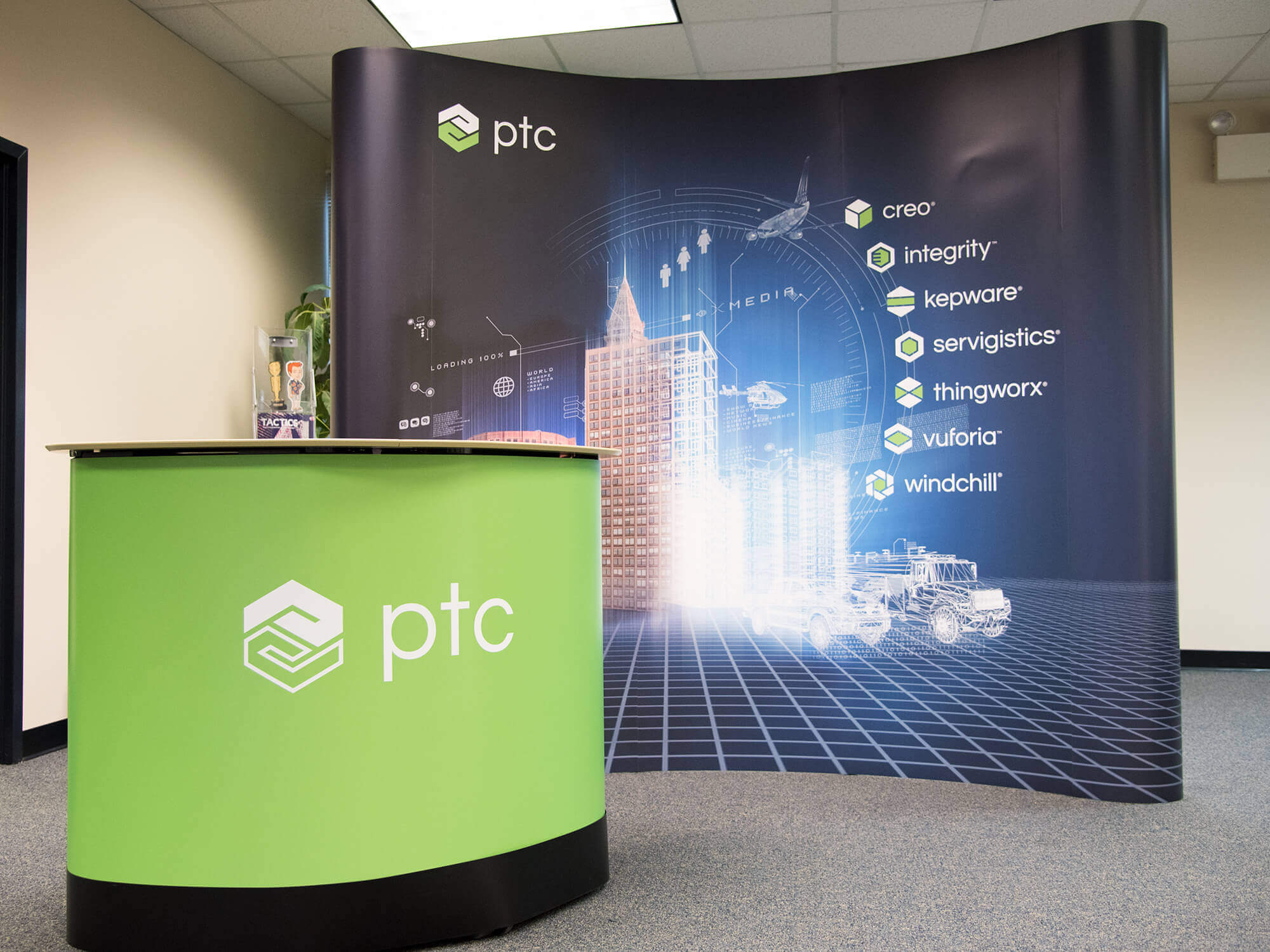 Retractable banners, like these created for our client Wildlife Acoustics, give visuals a prominent place inside a booth.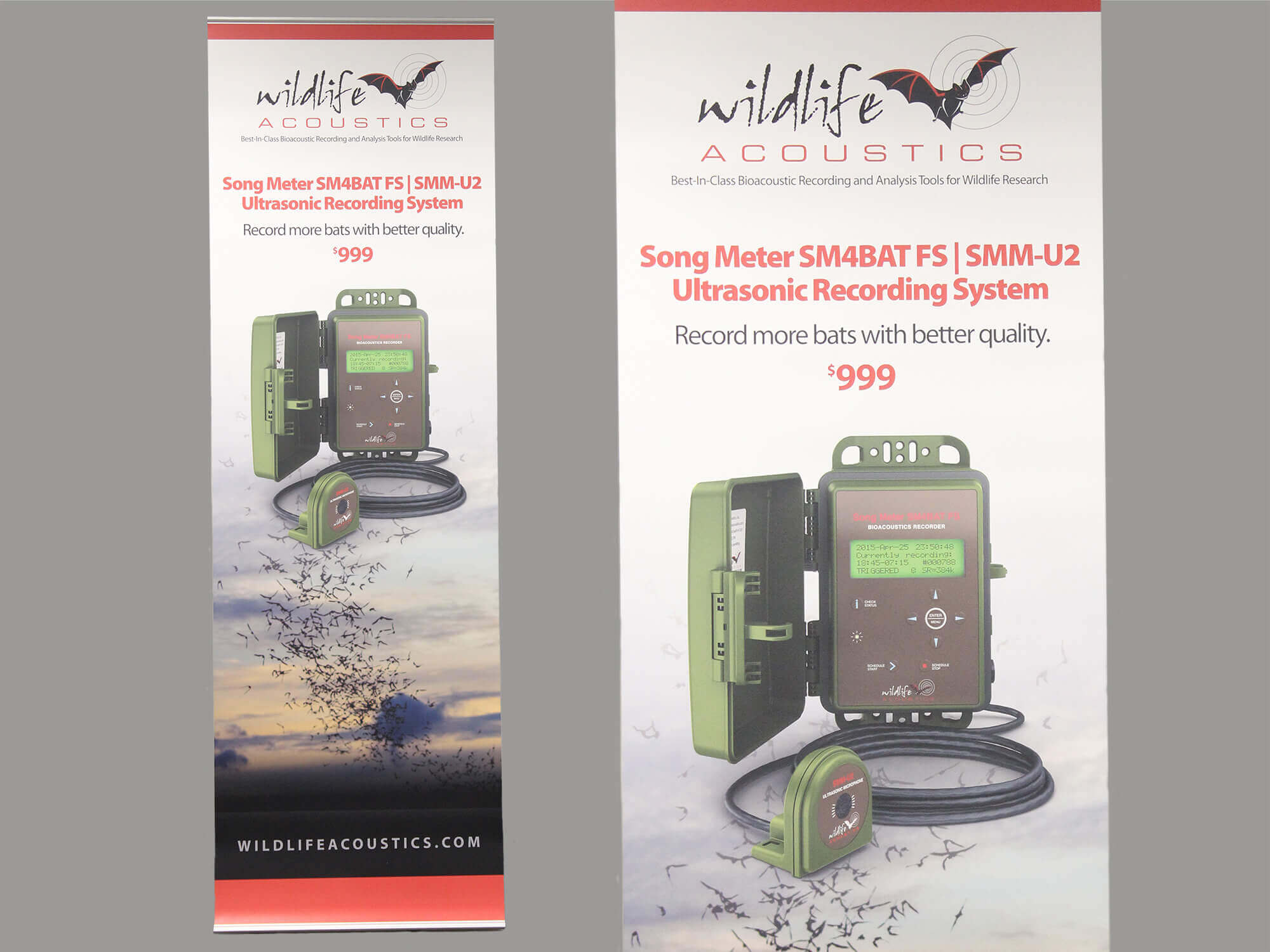 A halo hanging from the ceiling is another way to use striking graphics to catch attendees' eyes.
5. Use in-booth media with a clean display
It's tech-savvy world. Attendees expect booths to contain supporting media. In other words, there should be flat screen TVs that offer product demos, tablet stations that give people the chance to interact with your product, or QR codes that give customers the chance to learn more about your company.
Of course, technology can get messy. The last thing you want is a flat screen TV hanging on a brace with a tangled octopus of cables and cords. Consider specific signage to go around media to provide a crisp, professional look.
6. Purchase displays meant for trade shows
Competition is fierce at trade shows, and frankly, customers can tell if you've got DIY trade show displays. The best way to ensure an informative, inviting, and intriguing booth design is to get some help from experts.
Companies that specialize in marketing and wide format printing can help you design your booth, convey your message, create pristine graphics, and craft compelling marketing materials.
When you buy trade show furnishing from a reputable printer, they're created with travel in mind. Displays can easily fit inside rolling luggage containers, retractable signage folds up easily, and brochure stands collapse with brochures inside.
Best of all, with a web to print storefront from Shawmut, we'll take care of shipping your displays and any needed materials to your event location. Ship your materials back to us using pre-printed return shipping labels and we'll store them safely and take care of any repairs that may be needed.
Wrap up
Trade shows offer amazing lead generating potential, but to get face time with prospective customers you have to create a booth that motivates people to visit. A paper banner pinned to a curtain and table full of brochures won't cut it.
To stand out, trade show exhibitors have to create a booth that catches attendees' attention. To do that, a booth must have an inviting set up along with amazing, to-the-point visuals.
For help creating your next trade show booth, download our Events and Trade Show Catalog. You'll find plenty of inspiration that will take your booth from drab to fab.