Marketers have long debated the usefulness of promotional products. Sometimes referred to as "giveaways", promotional items make a bigger impact than most of us realize. For example, did you know that the average male owns eight promotional caps? Or that most women own five promotional mugs? What's on your desk or in your home? Chances are you have a promotional product you've been hanging onto, and you'll likely recall the brand that gave it to you.
According to the Advertising Specialty Institute, 83% of consumers remember a brand from a promotional product and retain it for an average of eight months. That's a powerful brand impression. In fact, research shows that promotional products provide a better cost per impression than TV, magazines, and online advertising.
Here are 3 reasons why promotional products are a valuable part of your marketing mix:
1. They Get Used!
Everyone loves free stuff, especially when it's useful! According to Promotional Products Association International (PPAI), 53% of consumers use a promotional item at least once a week or more. The key is to make the product is not only useful but relevant to your audience. While many products are universal, it is important to keep your industry and the demographics of your customers in mind when picking promo items. For example, if you are targeting purchasers in IT a cool tech product might help them remember your brand, but make sure it works. There's nothing worse than advertising your brand with a low quality product.
2. They Stick Around
Just like printed collateral, promotional products have staying power making them memorable. Some products, such as umbrellas, can stay around for over a year, while others, especially health and safety products and writing instruments, last for about six months. Below are some of common promotional products according to the 2016 ASI survey and how long consumers keep them.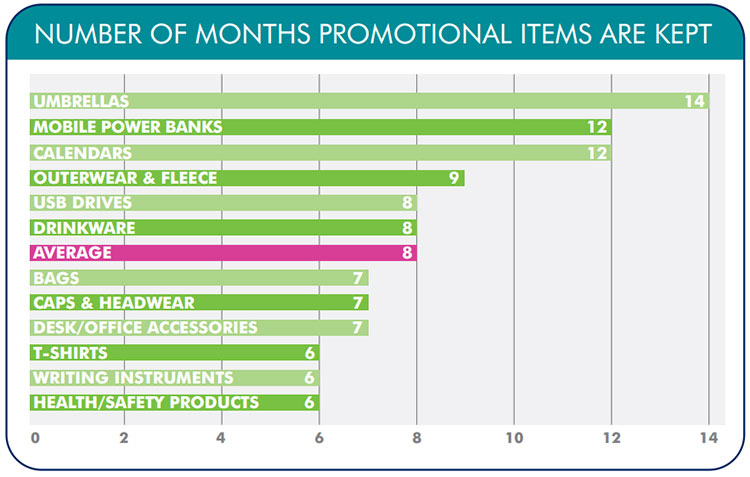 3. They're Personal
In an age where marketers are constantly trying to personalize their messages, promotional items help us go further than variable content and images. They reach people beyond digital screens and paper collateral by becoming part of their daily lives. With promotional products, customers and potential customers are interacting with your brand—often without even realizing it. Whether your item becomes part of their morning coffee routine or favorite beach towel it can often create a longer lasting brand impression than other marketing channels.
Tips for Tracking ROI of Promotional Items
Understanding the value of promotional items is a great first step, but it's also important to track their effectiveness. When it comes to tracking the ROI of promotional products it's all about the call to action. Here are some great tips to help yours stand out and make it trackable.
Consider a multi-product promotional campaign where customers must respond to your offer to get the next product. Remote control cars are a great example! Send the car, but keep the remote.

Use a special phone number. Services like grasshopper.com enable you to set up unique phone numbers and track calls for each of your marketing campaigns.

Create a unique URL and track page visits in your google analytics account.

Add a QR code to your product and monitor the scans.
Just like other marketing tactics, promotional items are not a silver bullet but they certainly make an impact. They attract people to in-person conversations, increase brand recognition, and provide a positive brand experience that people will remember and use.