Gone are the days of "mass mailings" where the same postcard-sized coupon is delivered to every customer. Today's marketers are savvier stewards of the mailbox. They know that effective direct mail marketing is fueled by personalized, unique campaigns that drive customers to act.
To inspire your next campaign, here are five modern ways to target direct mail customers:
1. Send personalized campaigns with variable data printing
Personalization at-scale can be a challenge, but not with variable data printing. This technique allows a digital printing press to personalize each piece. A postcard campaign, for example, could include the first name of each customer on your mailing list—and that's just the start. You can also leverage any data point to change images and text in order to create a more personalized message for each recipient.
With variable data printing, it all starts with your data. Can you pull the right information from your database to effectively target your desired audience? If so, the next step is to work with a printer or mailing company that offers variable data printing services—preferably a company that has staff members who specialize in this area. VDP specialists can help you set up your data file for success. They can also build complex rules—or a combination of rules—to swap out content (text or images) based on unique values in your database.
You can combine variable printing with segmentation too. Segment your customers based on their location, for example, and change the background image to a local landmark based on a customer's address. Or change the messaging of your fundraising letters based on donor groups (i.e. non-donors, first-time donors, lapsed donors, etc.) The options are pretty much endless.
2. Create (or revive) a company catalog
You might not think catalogs are a modern way to target direct mail customers, but they're making a comeback. Retailers like JCPenney and Neiman Marcus have resurrected their catalog, and online giant Amazon launched its first toy catalog during last year's holiday season.
USPS says catalogs have become a "marketing powerhouse," as retailers send them to specialized segments in order to reinforce online sales. It seems that browsing through a tangible, eye-catching book drives customers to buy online, and research proves it.
Studies show catalog recipients spend 28% more online than non-catalog recipients. The same study, from USPS, shows a 168% increase in revenue for websites supported by print catalogs as opposed to those that weren't.
Just remember that the same personalization rules apply to catalogs. Consumers expect product catalogs to include products that are relevant to them. If not, they'll simply label it as junk mail. Use your data to segment and personalize catalogs based on buyer demographics, purchase history, product preferences, offers, coupons, and more.
Direct mail catalogs are also a great opportunity to attract new buyers. You can purchase mailing lists using life event triggers (i.e. new movers, college-age children, new parents, etc.) that drive purchase behavior.
3. Use a personalized URL in your next campaign
The call to action on many direct mail pieces is a website, but sending customers to a generic homepage is, well, generic. The solution: pURLs, or personalized URLs.
A pURL typically includes a customer's name in the link, such as www.AffordableHomeDecor.com/BillJohnson, and takes the recipient to a tailored landing page or microsite that greets the customer with additional personal information and a call to action.
For example, a university could use pURLs in a fundraising campaign. The pURLs could take recipients to a personalized microsite that includes the alumni's name, area of study, and extracurricular activities. Ideally, the personalized campaign makes a stronger connection with the donor and drives him or her to contribute to the university.
4. Test colored envelopes
Marketers spend a lot of time crafting motivating copy, but if that message is hidden in a plain white envelope, customers might not ever read it. A growing number of marketers are experimenting with colored or textured envelopes to grab attention and increase open rates.
This modern technique is best combined with segmentation and A/B testing to see which section of your audience responds best to select colors.
Shawmut customer UpToDate recently tested white envelopes, green envelopes, and envelopes with an image on them to see which one recipients liked best. The results varied by region; American recipients responded to the green envelope, while Canadian recipients responded to the envelope with an image.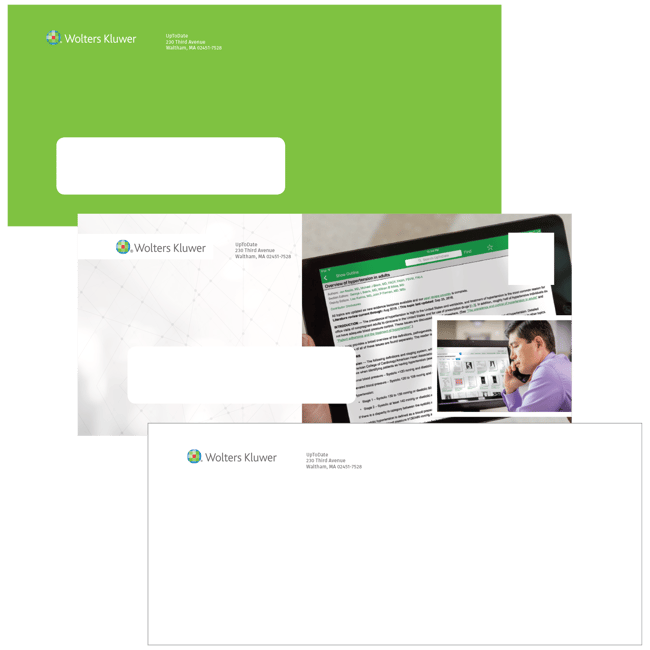 You could take this one step further and use variable printing to add a personalized message on the front of each envelope.
5. Enhance Your Direct Mail with Online and Social Advertising
According to the DMA, direct mail's response rates outperform other channels by a long shot, but that doesn't mean it should be used in a silo. In fact, companies that use multi-channel marketing experience 3x higher effectiveness rates—all the more reason to double-down on your direct mail investment.
Enhancing your direct mail programs with online and social media advertising is also easy to do. MailPlus, a marketing platform offered by Shawmut, allows customers to seamlessly track the effectiveness of direct mail campaigns and integrate them with digital platforms like Google, Facebook, and Instagram.
Using MailPlus, customers can deliver social media ads on Facebook and Instagram before, during, and after their piece hits mailboxes. In addition, you can re-target recipients that have visited your website but did not convert with ads delivered via the Google display network. This repetition of your message increases the likelihood that someone will take action which on average takes between 8–12 tries.
Targeting direct mail customers has never been more important. Customers demand personalization, but even that's not enough to satisfy hungry consumers. Marketers have to marry personalization with both digital and traditional tactics to drive response rates to new heights.